I am already a subscribed to your newsletter, but I keep getting a pop-up asking me to subscribe. This 'nagging' action is a fairly recent problem. This is beginning to annoy me and I would appreciate knowing how to stop this from occurring.
First, thanks for subscribing, I appreciate it.
Second, I'm sorry that my site is annoying you. It's not supposed to.
The problem is cookies.

The fact that you're subscribed actually has nothing to do with whether or not you see that popup. The website doesn't know who you are, and is completely unrelated in technology to the newsletter. It  certainly doesn't "know" whether or not you're subscribed.
There are two "popups" you may be seeing. The full page pop-up: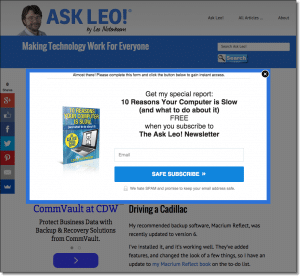 That popup is supposed to be shown exactly once, and then not again for 90 days. (The timing may change, but you get the idea, it's supposed to be "for a while".)
The other is more correctly termed a "slider", and slides up from the bottom when you get close to the bottom of a page: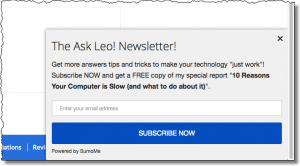 That should be shown only once a day.
Both limit themselves by instructing your web browser to put a cookie on your machine so that it knows "oh, you've seen this already, I don't need to bug you".
So why is it bugging you anyway?
There are several possibilities:
You're opening multiple tabs or windows at once before the cookies have been set. Each tab then thinks it's the first for the day.
You have cookies disabled. Without cookies, I have no way to keep track of the fact that you've seen the popup before.
Your internet security software is blocking cookies. Same problem: without cookies, I don't know not to bug you. If you can, add an exception for "askleo.com", "ask-leo.com", "leadpages.net", "sumome.com" and "aweber.com". AWeber is my newsletter email provider, LeadPages.net is a provider of some of the newsletter subscription tools I use, and Sumome provides the social media share buttons as well as the bottom slider.
You're regularly clearing your cookies – either manually or through some automated process. This causes my site to "forget" that you'd visited before.
You're using a different browser on each visit. OK, probably not each visit, but since each browser keeps it's own list of cookies, the first time you visit the site in, say, Internet Explorer, you'll still see the pop-up once even though you've visited before using FireFox.
You're using a different machine. Same issue as the previous point – cookies are kept separately on each machine.
If none of those work, you can also block Javascript on my site, and you'll not see the popup. My recommended approach is to use the NoScript plugin to FireFox to enable and disable Javascript selectively on for sites that you do and don't trust. Unfortunately there may be other features of the site that will then also stop working.
The newsletter subscription pop-ups are actually vital to Ask Leo!'s survival. I have run without it, and the results were not pretty. It, like some amount of advertising, are what helps pay the bills, and keep Ask Leo! free and vibrant.
Thanks for understanding,