This Week's Newsletter
It's a question I heard more than once when it was step number one in my Spectre/Meltdown advice: why is backing up my go-to advice for seemingly everthing?
Also this week: Windows 10 makes it easier to make things bigger, and so many people are concerned about intercepting video chat it makes me wonder what they're up to. Then again, perhaps I don't really want to know.
•
Reminder: The Tech Enthusiast Hour podcast now publishes on Tuesday morning. A more-or-less consistent group of hosts -- of which I am more or less consistently a member -- talk about the latest tech news and excitement. (The deadlines are too close for me to tell you here what we talked about this week, but I can assure you it was both interesting and entertaining.
)
•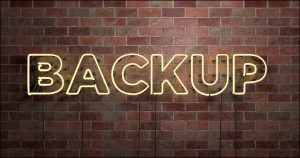 In your response to the
Spectre and Meltdown
vulnerabilities the first thing you recommended was to
back up
. Why? How does that relate to anything? How does backing up help protect me from vulnerabilities?
I do harp on backing up a lot, I know. But it's on purpose.
As I've said elsewhere, nothing protects you and your data like a complete, recent backup.
Why? Because so much can go wrong. And sadly, some of the folks trying to protect themselves from Spectre and Meltdown are probably wishing they'd backed up before doing so.
The backup I'm talking about
I want to be clear that the kind of backup I advocate is a complete system image backup. That's a backup of your entire hard disk, including your operating system and all your installed programs, as well as your data.
Other types of backups are certainly better than nothing, and it's incredibly important to back up at least your data, but for the kinds of issues we're about to consider, it's a system image backup that'll save your bacon.
Vulnerabilities make you vulnerable
The single biggest reason I immediately go to backing up as a mitigation step when vulnerabilities are discovered is that your system is now vulnerable to malware. If malware gets on your machine, it now has a known way to exploit that vulnerability and wreak havoc.
Depending on the specifics, you may or may not be able to remove the malware through traditional means — for example, by using an anti-malware tool. Even then, once your security software says that the malicious software has been removed, there's still no way to know with 100% accuracy that it's correct. Malware's #1 job is to hide, and there's really no way to know that your security software saw through all possible deceptions.
Short of reinstalling your system from scratch, restoring from an image backup taken prior to malware's arrival is the only way to know for sure the malware has been removed.
So whenever I hear the phrase "new vulnerability discovered", I immediately think "back up", and use that as an opportunity to remind everyone of what I've just described.
Read-only vulnerabilities are gateways to more
One of the objections I heard to my concerns about Spectre and Meltdown was that since they're read-only vulnerabilities (in that they only enable reading of protected memory areas), they can't actually damage anything, and you won't lose any data.
Consider the following scenario:
Malware makes it on to your machine.
That malware uses the Spectre and/or Meltdown vulnerabilities to read otherwise protected operating system internal memory.
What that malware finds is information that somehow allows it to request and be granted administrative privileges on your computer.

1

With administrative privileges, the malware can read, write, encrypt, delete, or destroy whatever it has a mind to.
The vulnerabilities don't directly harm you, they just enable the malware's ability to harm you.
Again, a backup would protect you from the majority of that harm.
Updates (sigh) can cause problems
What's frustrating to everyone involved is that Microsoft's track record on providing stable updates is questionable. Some users are finding themselves in this unenviable scenario:
It's important you take all updates to protect yourself from malware that might exploit the vulnerabilities.
Oh, and that update might "brick" your machine.
Point #2 should never happen, but as I said, reports are that some folks are experiencing it.
A complete system image backup taken prior to the update will protect you from the update if the update goes bad. If you find your machine unresponsive after the update, you can restore the backup image and wait for the update to be … updated … before repeating the process.
Yes, absolutely, it's extremely frustrating. But it's also important not to let the fear of updates prevent you from updating. A complete system image backup is your fear-reducing safety net.
It can't get any worse than this
An image backup represents a snapshot of your entire computer at a point in time — a snapshot you can revert to should anything untoward happen.
By knowing you can always revert to that snapshot of your machine, you know that no matter what happens from that point forward, it can't get any worse. If it does, you revert.
That's why any time I'm faced with risk, I back up. Be it installing major updates, performing clean-up and/or repair operations, replacing or upgrading hardware, or just making changes to the work you keep on your machine, a backup is your safety net.
In case I wasn't clear
Back up.
Back up first. Back up often.
Sooner or later, you'll be very, very glad you did.
And it'll always be part of my response. 🙂
Related Links & Comments: Why is Backing Up Your First Recommendation for Everything?
https://askleo.com/33048
•
The Ask Leo! Tip Of The Day!
An emailed tip six days a week to help you use your computer, and your technology, more effectively and with more confidence. Includes online access to all previous tips, as well as Ad-Free Ask Leo!

There's something for everyone, from beginner to the experienced computer user.

By popular demand: now available as a monthly or annual subscription.

Support Ask Leo! by purchasing a subscription to The Ask Leo! Tip Of The Day.

Thanks!

-Leo
•
We got a new laptop, and of course it has Windows 10. It also has the latest fancy-dancy screen, or so I'm told. Supposedly it's "bigger", 3200×1800 I guess? But everything on it is teeny tiny! That's the exact opposite of what I want! I can barely read it!
It's always frustrating when making things "bigger" makes them smaller instead. As newer displays have much higher resolution than we've seen in the past, yours is a very common reaction when people get new machines.
Fortunately, Windows 10 has made this easier to deal with than in previous versions.
When we're done, icons and text will indeed be bigger, and everything — especially photos — will be crisper and clearer than ever before.
Continue Reading: Making Things Look Bigger in Windows 10
https://askleo.com/33156
•
Hi, Leo. I had a private video chat with my girlfriend. I'm afraid that it could be recorded by someone and released on, say, a porn site. We used personal laptops only. When I got a doubt, I scanned both systems with an anti-
virus
tool and they're clean. So, there's not really a virus, but I'm still afraid that someone will record it for monitoring and all.
It's impossible to prove that it can't be (or wasn't) recorded: you can't prove a negative. And ultimately, if this is something that really concerns you, then don't do that!
But I don't think there's going to be a problem here. In practical terms, with one exception that most people don't think about, it's highly unlikely.
Continue Reading: Can Video Chat Be Intercepted and Recorded?
https://askleo.com/10960
•
A feature exclusively available to Ask Leo! Patrons Bronze level & above.
•
More Ask Leo!
Become a Patron
Books - Business - Glossary
Facebook - YouTube - More..
•
Leo's Other Projects....
HeroicStories
Since 1999, HeroicStories brings diverse, international voices to the world ' reminding us that people are good, that individuals and individual action matter. Stories - new and old - are published twice a week.
Not All News Is Bad - Each day I look for one story in the current news of the day with a positive bent. Just one. And I share it.
leo.notenboom.org - My personal blog. Part writing exercise, part ranting platform, it's where I write about anything and everything and nothing at all.
•
Help Ask Leo! Just forward this message, in its entirety (but without your unsubscribe link below) to your friends. Or, just point them at https://newsletter.askleo.com for their own FREE subscription!
Newsletter contents Copyright © 2018,
Leo A. Notenboom & Puget Sound Software, LLC.
Ask Leo! is a registered trademark ® of Puget Sound Software, LLC