#958 - Is Windows 10 Going Away?
View Online:
https://newsletter.askleo.com/current-newsletter/
Newsletter FAQ & administration
A (corrected) reminder
As a free newsletter subscriber you have access to the FREE edition of The Ask Leo! Guide to Staying Safe on the Internet, recently updated. You can download it here, along with at least one other freebie you might find helpful. (Last week's notice had some bad links. If you downloaded the free edition make sure you got version 6.)
If you've already purchased the Expanded Edition sign in to your Ask Leo! account. You'll find the recently updated version of that waiting for you there as well.
And if you've not yet purchased it get 20% off when you use this month's coupon code (MARCHLION) in the Ask Leo! store.
How do you define death?
When it comes to Windows, it's not a simple definition. Windows 10 is going away, but then ... so did Windows XP, and yet there are folks out there still running it. So is XP dead? Or just "mostly dead"?
And what does that mean for Windows 10?
I'll dive into the nuances in this week's featured article: Is Windows 10 Going Away?
Also this week
Disappearing edits.
Backing up a new machine (the pedants guide).
Files that won't go away.
Emails that go away unexpectedly.
As always, links below.
TEH Podcast
Still on "Spring Break". Hopefully back at it next week!
*
Take care,
Featured Article
Windows 10 is and is not going away. It depends on your perspective.
Also This Week on Ask Leo!
Changes you've made to a document that was emailed to you can easily disappear. Let's avoid that.
https://askleo.com/2145
Backing up your new machine on arrival can be an important safety net. But there are degrees of safety.
https://askleo.com/154141
Sometimes a file cannot be deleted because it has invalid characters in its filename. Here's what to try.
https://askleo.com/1907
I get reports of people who have lost the contents of their inbox. We'll look at a couple of common causes and resolutions.
https://askleo.com/1915
Ask Leo! on YouTube
Subscribe to Ask Leo! on YouTube to get the latest on YouTube.com. Your subscription (and "Likes") help others find Ask Leo!, and the answers they're looking for.
The Ask Leo! Guide To Staying Safe On The Internet Expanded Edition - Sixth Edition!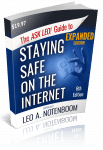 Newly updated and revised, with all the latest changes for the most recent online threats, system updates, and more.
It's my most important book!
Already own a prior version? You already own v6! Check your Ask Leo! Account. Already have the FREE edition? That's been updated too! Check your Ask Leo! Account.
Support Ask Leo!
Ask Leo! is supported in part by people just like you! For as little as $2/month you can help, and view askleo.com without ads. For $5/month you'll also get the The Ask Leo! Tip of the Day
Here are examples of tips published this week:
Support Ask Leo! and become a patron for these and other exclusive benefits and discounts!
Other ways to support Ask Leo!.
Share Confident Computing!
Share the confidence: forward this (without your unsubscribe link at the bottom) to your friends! They'll thank you! (And so will I!)
Did someone forward this to you?
to get your own copy each week. It's FREE!
Become a Patron
Ask Leo! Books
Social & more!
✓ Facebook
✓ Twitter
✓ YouTube
More..
Other Projects....
Not All News Is Bad - Each day I look for one story in the current news of the day with a positive bent. Just one. And I share it.
HeroicStories Since 1999, HeroicStories brings diverse, international voices to the world ' reminding us that people are good, that individuals and individual action matter. Stories - new and old - are published twice a week.
7 Takeaways - I've resolved to read something of substance each day and identify one idea to "take away". Once a week I post the takeaways I've collected for the week.
leo.notenboom.org - My personal blog. Part writing exercise, part ranting platform, it's where I write about anything and everything and nothing at all.