#957 - Why You -- Yes, You -- Are a Target of Hackers
View Online:
https://newsletter.askleo.com/current-newsletter/
Newsletter FAQ & administration
A reminder
As a free newsletter subscriber you have access to the FREE edition of The Ask Leo! Guide to Staying Safe on the Internet, recently updated. You can download it here, along with at least one other freebie you might find helpful.
If you've already purchased the Expanded Edition of The Ask Leo! Guide to Staying Safe on the Internet, make sure to sign in to your Ask Leo! account. You'll find the recently updated Expanded Edition waiting for you there.
And if you've not yet purchased it, remember, as a newsletter subscriber you get 20% off when you use this month's coupon code (MARCHLION) in the Ask Leo! store. Even more tips, tricks, and techniques to keep yourself safe and secure online.
Lame Excuses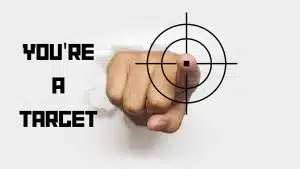 "I have nothing hackers would want, they're not going after me."
Wrong on so many levels. Besides not knowing what you do or do not have until after you've been hacked, you absolutely have things the hackers want, even if you think you have nothing.
I'll say it: it's a lame excuse to avoid doing security properly. Eventually you'll regret it, trust me.
Why You -- Yes, You -- Are a Target of Hackers goes into detail. Please pay attention, even if your bank account is empty.
Also this week
Virtual Memory: what it is and why you care.
Blocked attachments: how to send 'em anyway.
Domino theory: how one account hack can lead to more.
Subnet masks: your network area code, sort of.
As always, links below.
TEH Podcast
Still on "Spring Break".
•
Take care,
Featured Article
Even if your bank account is zero or you're just not that interesting, hackers are still after your accounts. Here's why, and what you can do.
Also This Week on Ask Leo!
What is Virtual Memory?
It's what your computer uses when it runs out of real memory.

Virtual memory is conceptually somewhere between RAM and hard disk space. It's disk space used to maximize the amount of RAM available to programs.
https://askleo.com/1925
Many email programs try to protect users from malware by blocking certain kinds of attachments. What if you're sending something that's legitimate, but blocked?
https://askleo.com/1895
A subnet mask is a way of telling your computer or router what network addresses are local and which are remote.
https://askleo.com/1906
Ask Leo! on YouTube
Subscribe to Ask Leo! on YouTube to get the latest on YouTube.com. Your subscription (and "Likes") help others find Ask Leo!, and the answers they're looking for.
The Ask Leo! Guide To Staying Safe On The Internet Expanded Edition - Sixth Edition!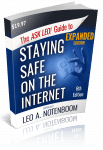 Newly updated and revised, with all the latest changes for the most recent online threats, system updates, and more.
It's my most important book!
Already own a prior version? You already own v6! Check your Ask Leo! Account. Already have the FREE edition? That's been updated too! Check your Ask Leo! Account.
Support Ask Leo!
Ask Leo! is supported in part by people just like you! For as little as $2/month you can help, and view askleo.com without ads. For $5/month you'll also get the The Ask Leo! Tip of the Day
Here are examples of tips published this week:
Support Ask Leo! and become a patron for these and other exclusive benefits and discounts!
Other ways to support Ask Leo!.
Share Confident Computing!
Share the confidence: forward this (without your unsubscribe link at the bottom) to your friends! They'll thank you! (And so will I!)
Did someone forward this to you?
to get your own copy each week. It's FREE!
Become a Patron
Ask Leo! Books
Social & more!
✓ Facebook
✓ Twitter
✓ YouTube
More..
Other Projects....
Not All News Is Bad - Each day I look for one story in the current news of the day with a positive bent. Just one. And I share it.
HeroicStories Since 1999, HeroicStories brings diverse, international voices to the world ' reminding us that people are good, that individuals and individual action matter. Stories - new and old - are published twice a week.
7 Takeaways - I've resolved to read something of substance each day and identify one idea to "take away". Once a week I post the takeaways I've collected for the week.
leo.notenboom.org - My personal blog. Part writing exercise, part ranting platform, it's where I write about anything and everything and nothing at all.