#962 - Why is My Outlook.com Email Suddenly Full?
View Online:
https://newsletter.askleo.com/current-newsletter/
Newsletter FAQ & administration
Coffee?
Somone asked if my old "buy Leo a coffee" thing was still around. It most certainly is! buyleoalattee.com continues to feed my caffiene addiction. (Since I have patronage and products I don't highlight it as often as I used to. But I still appreciate the occasional cuppa.
)
Microsoft strikes again
Honestly, I don't even know how to summarize this one, but if you use Outlook.com it's an important one that might already have caught you by surprise.
They're changing how space is allocated between Outlook.com and OneDrive, and if you have a free account you might already be blocked from sending and recieving email.
Why is My Outlook.com Email Suddenly Full? has the details.
Also this week
Deleting attachments at Outlook.com.
System Restore is unreliable.
Ads try to fool you.
Restoring a backup to a new PC.
As always, links below.
TEH Podcast
Gary and I discuss our internet woes, what's next for social media, I come up with an odd use for virtual machines, and we talk space exploration! All that and the ubiquitous "more".
TEH 189: Internet Woes, Social Media what now? and Planetary Slingshots
*
Take care,
Featured Article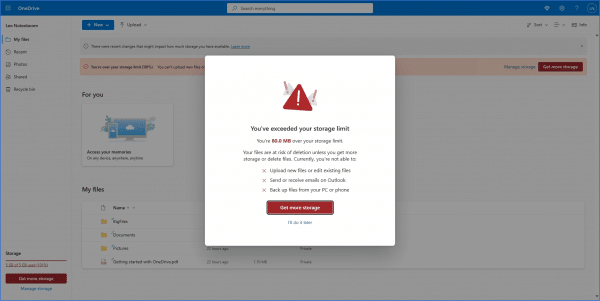 Microsoft made a confusing change to how storage is allocated between Outlook.com and OneDrive.
Read: Why is My Outlook.com Email Suddenly Full?
Also This Week on Ask Leo!
Don't Be Fooled By Ads
Advertising is a necessary evil that makes the free internet possible ' and occasionally frustrating.

Advertisements support the free information available online. It's critical that you can distinguish ads from genuine content.
Read: Don't Be Fooled By Ads
You probably want to keep the new operating system on your new machine. All that you need from your image backup is the data that has luckily been preserved.
Read: How Do I Restore a Backup to a New PC?
Ask Leo! on YouTube
Subscribe to Ask Leo! on YouTube to get the latest on YouTube.com. Your subscription (and "Likes") help others find Ask Leo!, and the answers they're looking for.
Saved! Backing Up with Macrium Reflect 8 - Online Course
Safety and security, all in a backup program? It's all about the peace of mind you get when you've got things backing up properly.
Over 40 easy-to-consume videos walking you through setting up, backing up, scheduling, restoring and more.
More details in the Ask Leo! store: Saved! Backing Up with Macrium Reflect 8 - Online Course
---
Support Ask Leo!
Ask Leo! is supported in part by people just like you! For as little as $2/month you can help, and view askleo.com without ads. For $5/month you'll also get the The Ask Leo! Tip of the Day
Here are examples of tips published this week:
Support Ask Leo! and become a patron for these and other exclusive benefits and discounts!
Other ways to support Ask Leo!.
Share Confident Computing!
Share the confidence: forward this (without your unsubscribe link at the bottom) to your friends! They'll thank you! (And so will I!)
Did someone forward this to you?
to get your own copy each week. It's FREE!
Become a Patron
Ask Leo! Books
Social & more!
✓ Facebook
✓ Twitter
✓ YouTube
More..
Other Projects....
Not All News Is Bad - Each day I look for one story in the current news of the day with a positive bent. Just one. And I share it.
HeroicStories Since 1999, HeroicStories brings diverse, international voices to the world ' reminding us that people are good, that individuals and individual action matter. Stories - new and old - are published twice a week.
7 Takeaways - I've resolved to read something of substance each day and identify one idea to "take away". Once a week I post the takeaways I've collected for the week.
leo.notenboom.org - My personal blog. Part writing exercise, part ranting platform, it's where I write about anything and everything and nothing at all.