👍 #926 - Get a Windows System Report with MSINFO32
View Online:
https://newsletter.askleo.com/current-newsletter/
Newsletter FAQ & administration
So. Much. Information.
When asked a tech question, people like me almost always ask for more. More details. More information. More, more, more....
Here's one utility that could provide a bucket-load of useful information: msinfo32.
There are other utilities out there that will do similar, but this is built right into Windows. More information than you or I might use, or even understand, but often within the deluge are details that can really help answer questions.
Get a Windows System Report with MSINFO32 has the details.
Also this week:
Deleting and IMAP interactions.
What to do when your account's been hacked.
And more, of course.
As always, links below.
TEH Podcast
Our brief summer haitus ... is over! We're back.
We talked a lot about Gary's recent trip to Europe. Specifically we covered many topics related to technology when traveling. Very timely for me, since I'll also be doing a little travelling later next month.
TEH 168: Travel Tech in the EU has all that and more.
Take care,
Featured Article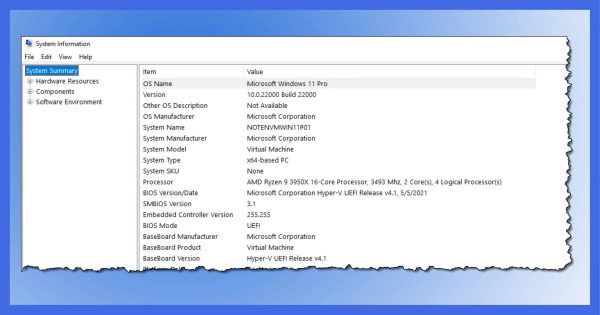 Msinfo32 is a tool to display and save an extensive report of your computer's configuration and state. It can be very helpful for others helping you diagnose issues.
Also This Week on Ask Leo!
When an email account is configured to use IMAP protocol, it's easy to accidentally delete more than you realize.
https://askleo.com/147319
Hacks happen. There are steps to take, not only to recover your account but to prevent it from being hacked again.
https://askleo.com/147330
Ask Leo! on YouTube
Subscribe to Ask Leo! on YouTube to get the latest on YouTube.com. Your subscription (and "Likes") help others find Ask Leo!, and the the answers they're looking for.
Support Ask Leo!
Ask Leo! is supported in part by people just like you! For as little as $2/month you can help, and view askleo.com without ads. For $5/month you'll also get the The Ask Leo! Tip of the Day
Here are examples of tips published this week:
Support Ask Leo! and become a patron for these and other exclusive benefits and discounts!
Other ways to support Ask Leo!.
The Ask Leo! Guide To Staying Safe On The Internet Expanded Edition - Fifth Edition!
Newly updated and revised, with all the latest changes for Windows 10, ransomware, the latest online threats and more.
It's my most important book!
Already own v4? You already own v5! Check your Ask Leo! Account. Already have the FREE edition? That's been updated too! Check your Ask Leo! Account.
Share Confident Computing!
Share the confidence: forward this (without your unsubscribe link at the bottom) to your friends! They'll thank you! (And so will I!)
Did someone forward this to you?
to get your own copy each week. It's FREE!
Become a Patron
Ask Leo! Books
Social & more!
✓ Facebook
✓ Twitter
✓ YouTube
More..
Other Projects....
Not All News Is Bad - Each day I look for one story in the current news of the day with a positive bent. Just one. And I share it.
HeroicStories Since 1999, HeroicStories brings diverse, international voices to the world ' reminding us that people are good, that individuals and individual action matter. Stories - new and old - are published twice a week.
7 Takeaways - I've resolved to read something of substance each day and identify one idea to "take away". Once a week I post the takeaways I've collected for the week.
leo.notenboom.org - My personal blog. Part writing exercise, part ranting platform, it's where I write about anything and everything and nothing at all.
Newsletter contents Copyright © 2022,
Leo A. Notenboom & Puget Sound Software, LLC.
Ask Leo! is a registered trademark ® of Puget Sound Software, LLC